Can you believe we've already reached Chapter 9?!?
Make sure you hop over to our two hosts for this chapter: Terri at The Creative Apple & Casey over at Second Grade Math Maniac.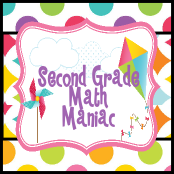 Are you ready to put Guided Math into practice?
Here are my

AHA

's..............
1. As you work towards helping your kiddos become mathematicians, keep this in mind....
enjoy exploring problems in a safe environment where mistakes are welcome.

have opportunities to try out new strategies

learn to identify appropriate strategies for problem solving

feel the satisfaction of struggling with difficult problems & solving them. Don't jump in & "save" kiddos when they begin to struggle! A bit of struggle is good! If you didn't have to struggle at all....it's not really problem solving, is it?

get feedback from teacher AND peers

participate in math discussions using math vocabulary
2. Are you just learning how to implement Guided Math? Research tells us that teachers learn best when they are working with a group of peers in a respected learning community. Do you have a professional learning community in your school or district? A group of like-minded teachers who are willing to get together to discuss concerns, share successes & challenges, to observe each other? You know, we have a professional learning community right here in the blogging community! We can do most of those things right here together online.
3. "As hurried and harried as teachers can become, they must keep their students & their students' learning needs in mind. Sometimes, to do this, teachers simply need to slow down so they can teach more deeply" (p. 249). Boy, oh boy! Does this ever speak to me. So many times this summer, I've found myself saying, I don't do this, or I skip that because I feel pressed for time. I guess I need to make myself a poster to hang in my room to remind me to SLOW DOWN!
Are YOU ready to put Guided Math into practice?