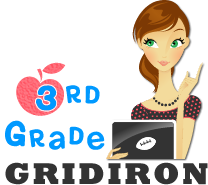 Thanks to Dana at 3rd Grade Gridiron, who is hosting Chapter 2.
Click on over to check out what
Using Guided Math to
Create a Classroom of Numeracy
is all about!
New to the study? You'll want to start out with Chapter 1. Then come on back here to read more....
Here are my thoughts on Chapter 2.......
A few things stuck out to me:
An organized classroom environment supports learning. Are materials organized & easily accessed? I can do a better job with that! That's why I created new labels for my manipulatives! I've spent too much time pulling out tote after tote. Is this it? Is this it? Sound familiar? (I hope not!). Have you seen Brittany's math manipulative organization? Doesn't it just look friendly?! Check out Sweet Seconds, & take a look!

Communication is at the heart of mathematics. Kids need to be able to express their thinking to build conceptual knowledge. Establish a classroom where kids share their thinking, listen to each other. Use strategies like turn & talk. Of course, all of these have to be modeled and taught.

Create classroom charts WITH students rather than putting up ones you've bought & hang them up! Students have more ownership, connect with the content, and refer to them when they've helped create them!

Keep measuring tools out & use them frequently (not just during the measurement unit!). Sammons reminds us that when they are visible & used on a regular basis for daily routines and problem solving, students begin to value their utility and understand their importance.
Probably the biggest question I've had from others is:
What exactly is a numeracy rich environment?
Do you encourage kids to use manipulatives, compute, compare, categorize, question, estimate, solve problems, talk, & write about math? Providing these opportunities creates a numeracy rich environment. SO....you can use these:
Student calendars or agendas. My school provides agendas to all students. I really haven't done much with them, but I'd like to think of a plan for using them. I've got to wrap my brain around that.....

Using manipulatives.

Math Word Walls

Math Journals- another of my goals for next year. I'm thinking they'd be great for a workstation.

Class made charts

Math-related literature
AND.......last, but not least.....