I found a new blog tonight, and I'm linking up with her Desire to Inspire Linky Party. Brittany over at
Lovely Literacy & More
has a great idea for a link up.....the task is to post about 3 non-teacher blogs that inspire you and 3 teacher blogs from which you gather inspiration. I'm all about blog
stalking
hopping, so this linky is right up my alley!
I find inspiration all over the blogosphere. Here are my top three non-teaching blogs I am currently stalking...
Apples and Pencil Skirts
I LOVE checking out this blog. Though I'm no where NEAR this fashionable, I love checking out all the styles and the way she pairs clothes, shoes, & jewelry. I definitely find inspiration here, and I TRY to be fashionable! Maybe someday, I'll get there.......
Dashing Dish
I found this blog last school year. She has THE most amazing low cal, clean eating, just plain healthy, but super delicious recipes! Every recipe I've tried from her blog has beena keeper! She also a christian and posts wonderful devotionals. I
highly
recommend popping over there to check out the wonderful and gorgeous recipes. You will NOT believe how wonderfully gorgeous these healthy, low cal food dishes look! Mmmm! Love her!
And here are the teaching blogs that I am currently stalking (out of the hundreds!)....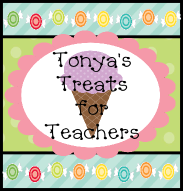 Tonya's T

reat

s for Teachers
I really enjoy reading Tonya's posts. She also has some really terrific products. . . .lots of freebies. . . and great giveaways! (She's so, so close to a 700 follower giveaway, too!). Plus-- her blog is just so stinkin' cute. Please stop over and check her blog out!
Don't forget to get in on my HUGE 800 Follower Celebration Giveaway! Over $120 worth of products/prizes!
a Rafflecopter giveaway