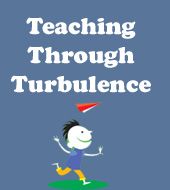 I am so excited! Today is my very first gig guest blogging!
Today, I'm over at
Teaching Through Turbulence
.
Heather (the voice behind
Teaching Through Turbelence
), is a Special Education teacher who focuses on working with kiddos who have Emotional Disabilities & other behavior issues. I was thrilled when she asked me to guest blog for her.
Today, I'm talking about math word problems as a genre and how important it is to explicitly teach the structure of word problems to kiddos. Did you realize most word problems have the same structure? When you unlock that knowledge for your kiddos, you will really give them some power!
Click on over
to read more about it (and there's a
FREEBIE
there for you, too!)
If you do one other thing today, make sure you get over to A Class*y Collaboration to enter the BIG giveaway!! Everyone's a winner in this one, folks! There's a great Freebie Pack for EVERYONE, and one lucky follower is going to win a $50 gift card!!